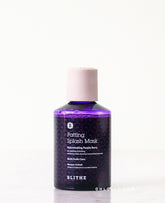 Blithe Purple Berry Patting Splash Mask
$29.00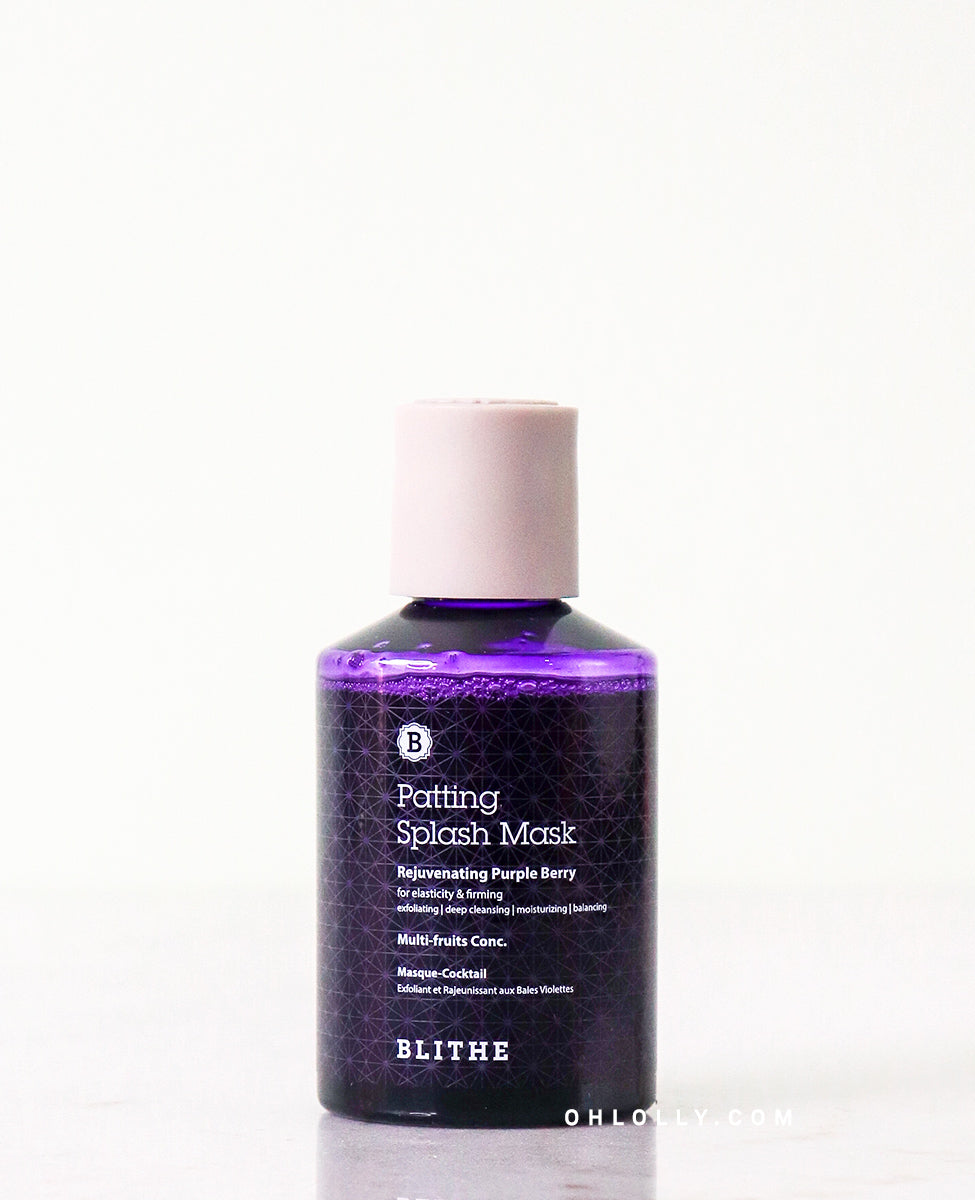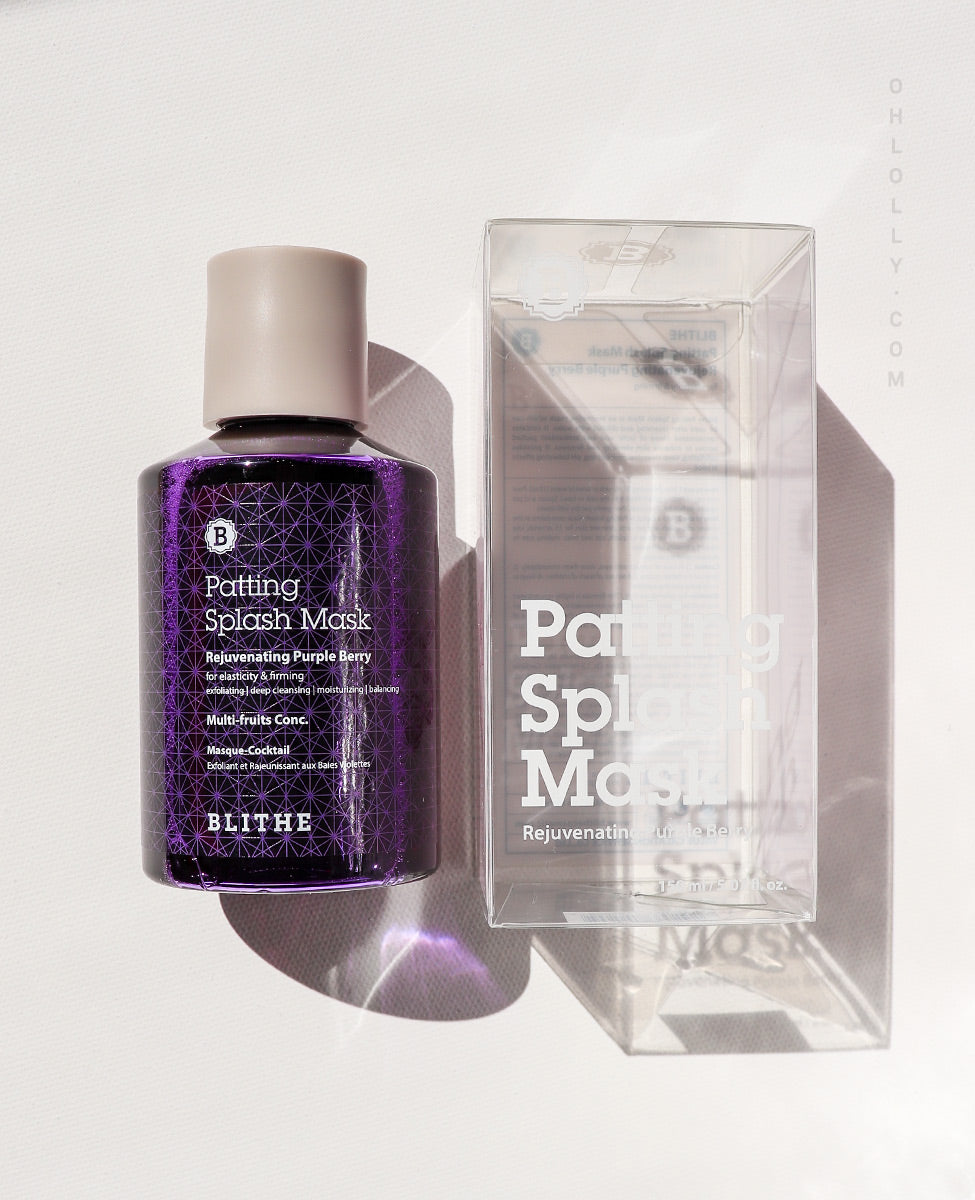 Purple Berry Patting Splash Mask
Rejuvenating Instant Mask
A revolutionary way to mask. Blithe's Patting Splash Masks (PSMs) function like a facial rinse, but with the added benefits of a mask. The Rejuvenating Purple Berry combines a concentrated amount of lactic acid and revitalizing ingredients with an effective "splashing" method.
Pickup available at Ohlolly Warehouse M-F 1-5pm
Usually ready in 2 hours
Blithe Purple Berry Patting Splash Mask
Ohlolly Warehouse M-F 1-5pm
Pickup available, usually ready in 2 hours
381 Van Ness Avenue
Ste 1502
Torrance CA 90501
United States
+13109018577
Great For
Skin Types – All skin types
Skin Concerns – Hyperpigmentation, Fine lines, Tired, Dull
Why We Love it
Lactic acid purifies and exfoliates the skin to target hyperpigmentation and balance pH, while extracts from five different berries, including strawberry, blackberry, blueberry, raspberry, and bilberry offer a rich amount of antioxidants to enhance skin's elasticity. Polyphenol and anthocyanin make skin supple and smooth. Great for all skin types.
What to Expect
The Scents – Herbaceous
The Texture – Water-like
Makes Skin Look & Feel – Supple, smooth & bouncy
150 ml / 5.07 fl oz
1. Fill a bowl or clean sink with about 23 oz of lukewarm water.
2. Pour a capful of the PSM.
3. Splash and pat onto the face for 15 seconds, then gently pat dry with towel. For best results, follow with the Blithe Vital Treatment and Pressed Serum.
*Can be used morning or evening, 1-2 times a week. Wear SPF during the day!
BLITHE was built for the modern woman. Formulated to uniquely treat a combination of aging + pollution = "polluaging," BLITHE products are innovative multi-taskers that use ingredients from some of the wildest places on earth to rejuvenate and restore your skin. Blithe does not test on animals.
Ingredients We Love
Lactic acid, Berry extracts, Panthenol
Full List
Water, Glycerin, Lactic Acid, Vaccinium Myrtillus Fruit Extract, PEG~40 Hydrogenated Castor Oil, 1,2-Hexanediol, Gardenia Florida Fruit Extract, Saccharum Officinarum (Sugarcane) Extract, Sodium Lactate, Panthenol, Propylene Glycol, Ipomoea Batatas Root Extract, Citrus Aurantium Dulcis (Orange) Fruit Extract, Citrus Limon (Lemon) Fruit Extract, Dextrin, Fragrance, Butylene Glycol, Acer Saccharum (Sugar Maple) Extract, Tocopheryl Acetate, Adenosine, Euterpe Oleracea Fruit Extract(30ppm), Rubus Fruticosus (Blackberry) Fruit Extract(30ppm), Fragaria Chiloensis (Strawberry) Fruit Extract(30ppm), Vaccinium Angustifolium (Blueberry) Fruit Extract(30ppm), Rubus Idaeus (Raspberry) Fruit Extract(30ppm)
Skin concerns:
Acne, Redness, Pores
Blithe purple berry splash mask
I really like it, its gently get effective and it leaves the skin smooth. I receive a sample of this one and the green tea one before buying and I like this one better because it felt more hydrating and I didnt like the tea tree smell.
Skin concerns:
Acne, Aging
Love this product!
The smell is amazing and it really does make your skin feel softer and more plump! This is less wasteful than sheet masks, which is what made me want to try it in the first place. I'm addicted now
Skin concerns:
Dehydration, Redness, Aging, Pores
Love it
I am amazed that it works so well! My skin appears more refined after use. And I also love the process of the splashing & patting. Though it is quicker to use in the shower but I prefer the basin on counter top approach (I've tried both).